The feedback on the Evie blog was incredible! Thank you all! I really appreciated your questions and had such a fun time answering them! Moving right along, today we'll be covering questions all about Scarlett! You guys were rock stars sending these in! Once again, ill do my best to cover the most frequently asked, as well as a few I thought were fun! Thanks for all the love!
-How can we tell Evie and Scarlett apart?
Top question, all the time! LOL. Ill do my best. Personality is the key, but I understand that takes time and you also need to be around them a lot to catch on. Evie has a much deeper  and raspier voice whereas Scarlett's is definitely more high pitched. Evie has a birthmark on her right knee. Scarlett is very inquisitive, where Evie is more explorative. Evie loves to sing and dance, Scarlett loves to read and do puzzles. These are just some small things. Overall, they are completely identical, and even Ashley and I mix them up from time to time as you've seen on the vlogs!
-Who is her favorite sister?
Probably Evie. I think both sets of twins just share that special bond. Just live Evie, she has her pet name for her sis. She always calls Evie "Hebber". They love to stay up late and talk and giggle after we tuck them in. They'd keep each other up all night if we let them. They used to be quite competitive with each other, but I've noticed more recently they've been really on the same page with most things, including sharing all their toys and snacks. Its so cute to watch! All that being said, her and Indie team up quite often to get into trouble!
-Is she named after anyone?
Yes! Ashley! They both share the same middle name, Elizabeth. When picking out the girls names, we always knew one of them would get Ashley's middle name; Scarlett Elizabeth just flowed and sounded perfect. And it is.
-Does she still love books? Do you think she'll be your reader?
Definitely! Out of all the girls, she loves reading the most. Not just to look at the pictures, but she'll be the one who actually sits and listens to the book all the way through. You can tell she's trying to understand the words and pictures go together. She's got a great imagination. Also, when we let them a book at night, she's always the one to ask, "Two books?" LOL
-Scarlett's name is the only one that doesn't end in "E", is there a reason?
No particular reason. We had a list of names, and their names just happened to have 3 ending in "E". Now is it a coincidence Ashley picked the other first names, and I picked Scarlett's? Maybe so.
-How did you pick the name Scarlett?
I've always loved that name. Like I stated above, it was my top pick! I used to watch Gone With The Wind with my grandmother. I fell in love with Scarlett O' Hara! I've also always loved those old fashioned names from the old movies such as Vivien, Scarlett, and Katherine. Scarlett was always number one though, and when we found out we were having quadruplets, I knew my chances were good!
-Is she the biggest daredevil?
No, that title goes to Indie; but she's a close second. I think that's why those two team up and get into trouble so often. They're the risk takers. They also love to push boundaries. Out of the 4, they're the most stubborn and most persistent at getting what they want. I'm keeping an eye on those two!
-Who is her favorite relative outside of her immediate family?
Madison without a doubt. I'm not sure why, but they just developed a bond early on, and it still carries on today. She loves Madison so much, you can just see it in her eyes when she's around. She's normally a Daddy's girl, but occasionally, she'll choose Madison over me! Can you believe that??!!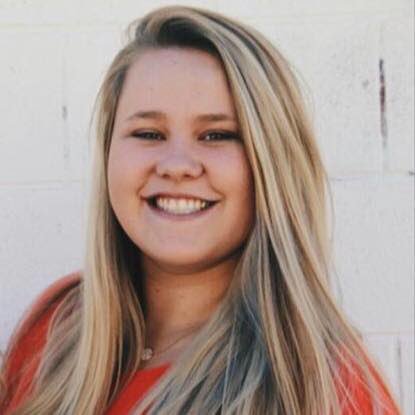 -What's her favorite song? Color? Food?
Her favorite song is probably Happy Birthday. She tells Alexa to repeat it all day long! LOL
Her favorite food is either Japanese Noodles or Cold Cereal.
Her favorite color at the moment is pink.
-Scarlett seems super observant… I know you said Evie could be president. What do you see Scarlett being?
The sky is the limit for these kids. There are a few things I could see her doing based off of her personality right now.
Therapist- Scarlett is a great listener. When you're talking with her, she's tuned in. She always has follow up questions as well.
Doctor- She studies whatever she's working on thoroughly. When she's engaged, there's not much breaking her concentration.
-If you were to describe her in one word, what would it be?
Happy
I hope you all enjoyed this brief insight into all things Scarlett! Your questions were wonderful, and honestly there were enough I could write ten more blogs, which I just might do!
I've  posted Evie's blog from your questions below just in case you missed it!
Your Questions Answered on Evie
Also, here's our most recent vlog below. Enjoy!